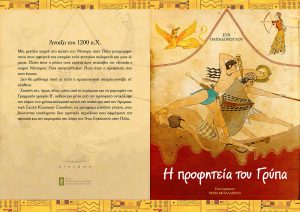 On the spring of 1.200 B.C. a great symposium at Nestor's Palace in Pylos narrates the story of a brave warrior and a priestess.
This archaeological story was inspired by two fresco fragments, found at the palace of Nestor in 1939, which depict probably an upper class woman, holding a bow, as well as by the discovery in 2015 of a warrior grave at Ano Englianos, unearthed by Professor Jack Davis and Dr. Sharon Stocker of the American School of Classical Studies in Greece, which is dated around 1500 B.C.
The Griffin's Prophecy, which was created in collaboration with DIAZOMA Association and Captain Vassilis and Carmen Constantakopoulos Foundation, having at each step the guidance of Professor Jack Davis and Dr. Sharon Stocker, holds as ultimate aim the offer of true knowledge, through finds and Linear B tablets testimonies, that will revive two crucial chronological eras shedding light at the succession of supremacy at Ano Englianos hill, at Pylos.