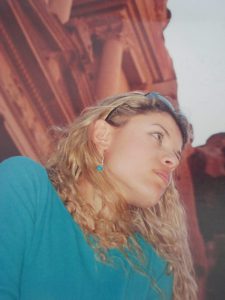 Dr. Evy Papadopoulou is an archaeologist, with a PhD on Prehistoric Archaeology from the University of Ioannina, Greece. From 1996 onwards she has been an active member at excavations in Patras, in New Olynthus at Halkidiki, Dodoni, Ithaca and Jordan overseeing the archaeological research and educating students on excavation techniques.
She has worked in the First and Second Ephorate of Prehistoric and Classical Antiquities excavating, documenting finds, organizing exhibitions and conducting tours for distinguished visitors. She has also worked at the Hellenic Ministry of Culture and at the National Archaeological Museum in Athens.
She has published articles in scientific journals while she has also participated in archaeological conferences.
She has co-edited an honorary volume for Professor Emeritus Thanassis Papadopoulos, entitled "ACHAIOS", published in 2016 from ARCHAEOPRESS Editions in Oxford, UK.
Dr. Evy Papadopoulou collaborates with the Antikythera Shipwreck and Mechanism team, planning educational programs, while from 2017 onwards, she is collaborating with the NGO DIAZOMA, a movement of people who share a love for cultural heritage and have come together to protect and promote ancient monuments, focusing primarily on Ancient Greek Theaters. She contributes to their work by researching and writing stories for monuments, applications, websites etc. which offer a brand new acquaintance with archaeological sites as they enhance cultural storytelling, a powerful means for the promotion of Greece's rich cultural heritage throughout the world.
Dr. Evy Papadopoulou also writes and performs, since 2013, the Archaeological Tales, original stories based on true archaeological sites and finds, with ultimate aim the acquaintance of the public worldwide with the different eras of the ancient Greek civilization in a unique way.